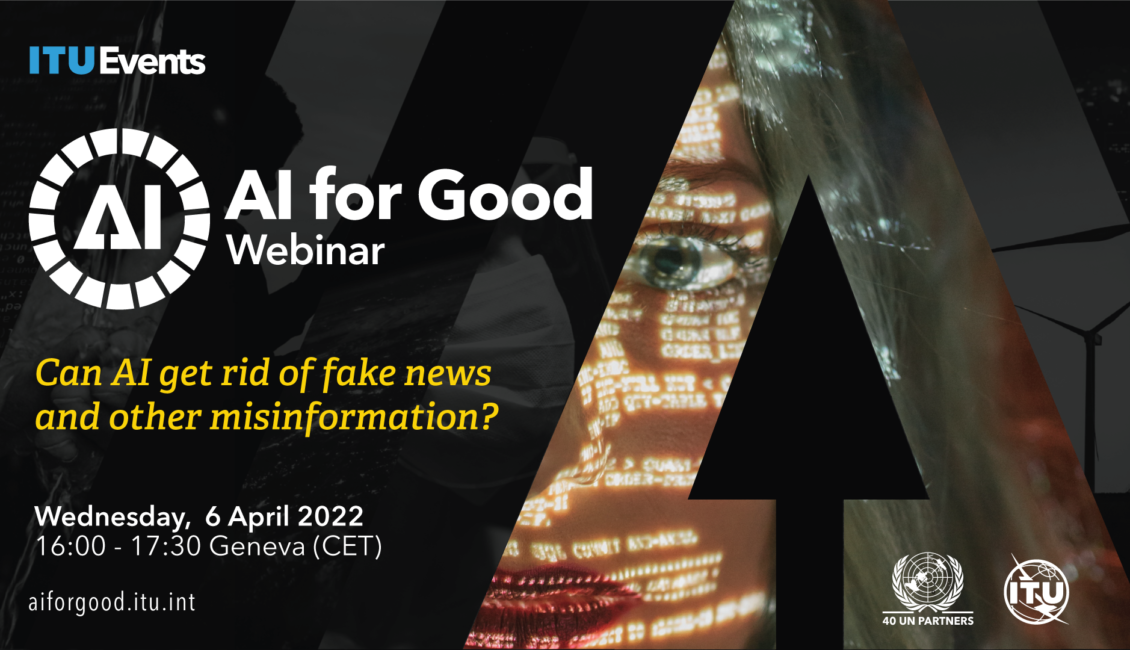 Accountable Information Sharing in the AI Era
"How to Get Rid of Fake News and other Misinformation?'
We would like to invite you to join the AI for Good Webinar taking place on 6 April from 16.00 till 17.30 ' o clock CET.
The AI for Good Series, organised by ITU in partnership with 40 UN Sister Agencies, is a year-round digital platform where AI innovators and problem owners learn, build and connect to identify practical AI solutions to advance and accelerate the United Nations Sustainable Development Goals (SDGs). AI holds great promise by capitalizing on the unprecedented quantities of data now being generated on sentiment behaviour, human health, commerce, communications, migration and more. The goal of AI for Good is to identify practical applications of AI to advance the United Nations Sustainable Development Goals and scale those solutions for global impact. It is the leading action-oriented, global & inclusive UN platform on AI.
The content will be moderated by Frits Bussemakers and Arthur van der Wees . Among the speakers the following experts will be joining this dialogue; Daniel Rogers, Mei Lin-Fung, Sam Pitroda and Silvia De Conca. More information regarding this session can be found on the programme's website: https://aiforgood.itu.int/programme/
This AI for Good session will explore these issues, from various angles and perspectives, aiming to come up with concrete recommendations towards concrete plans. This also while keeping in mind: 'a goal without a plan, is just a wish' (Antoine de Saint-Exupéry).
Description:
The main questions relevant to be addressed during this session are among others:
How to build, achieve and sustain trustworthy & accountable information sharing ecosystems in this AI and otherwise Digital Age to help address societal challenges while enabling and facilitating one or more of the 17 Sustainable Development Goals?
How and why do we trust information?
Where and how can AI and other technological and organisational capabilities lend a helping hand, while aiming to get rid of fake news and other misinformation?
How to avoid AI deployments and use becoming a foe?

This live event includes a 30-minute networking event hosted on the AI for Good Neural Network. This is your opportunity to ask questions, interact with the panelists and participants and build connections with the AI for Good community.
Looking forward to welcoming -and hopefully enlightening- you during this session.