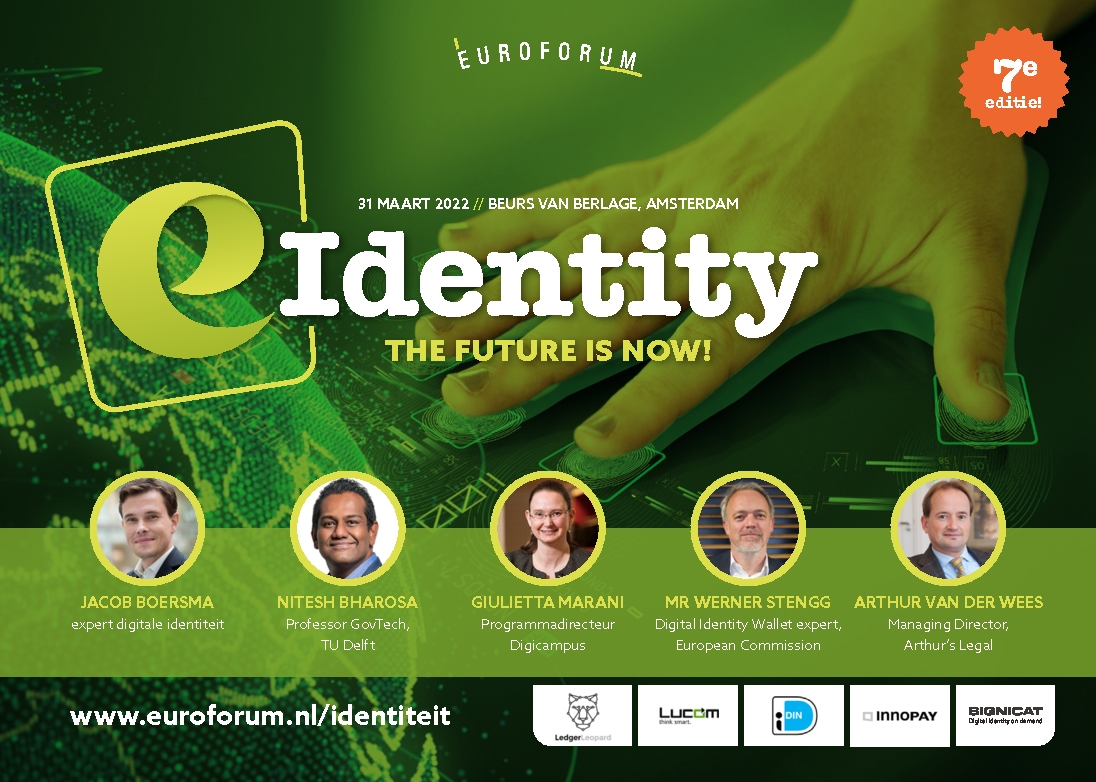 We are welcoming you to join the e-Identity Congres - Future of Digital Identity
The COVID-19 crisis has given a huge boost to the digitization of our society. We have started to work hybrid, pursue digital education and receive remote care. The development of digital identity tools and contactless solutions has accelerated. In short: the future is now!
The 7th edition of the e-Identity conference will bring together stakeholders and end-users of digital identity solutions.
This event is designed specifically for: Identity management experts, CIOs, IT managers, IAM experts, security/compliance managers and anyone concerned with electronic identification working in finance, telecom, healthcare, transportation, retail and government sectors. During this session, Mr. Werner Stengg (Cabinet Member-Executive Vice President Margrethe Vestager at the European Commission and Digital Expert ) and Arthur van der Wees (Director of Arthur's Legal, Strategies & Systems) will be talking about the European Digital Identity and its challenges during the morning sessions. 
You can find the entire programme here.


Keynote interview 10.15 uur
TOWARDS A EUROPEAN DIGITAL IDENTITY WALLET
How do you make sure that The European Digital Identity wallets offers a new possibility for EU citizens to store and use data for all sorts of services?

How can European citizens, (pulic and private) organisations and society benefit from the European Digital Identity Wallet?

What makes the European Digital Identity Wallet secure, transparent and trustworthy?
Mr Werner Stengg, Cabinet Member - Executive Vice President Margrethe Vestager at European Commission & Digital Expert working on the Digital Identity Wallet file

Arthur van der Wees, LLM, Managing Director bij Arthur's Legal, Strategies & Systems & bestuurder van New Trust Foundation en Institute for Accountability in the Digital Age
Date: 31 maart 2022
Location: Beurs van Berlage, Amsterdam
Damrak 243
1012 ZJ Amsterdam