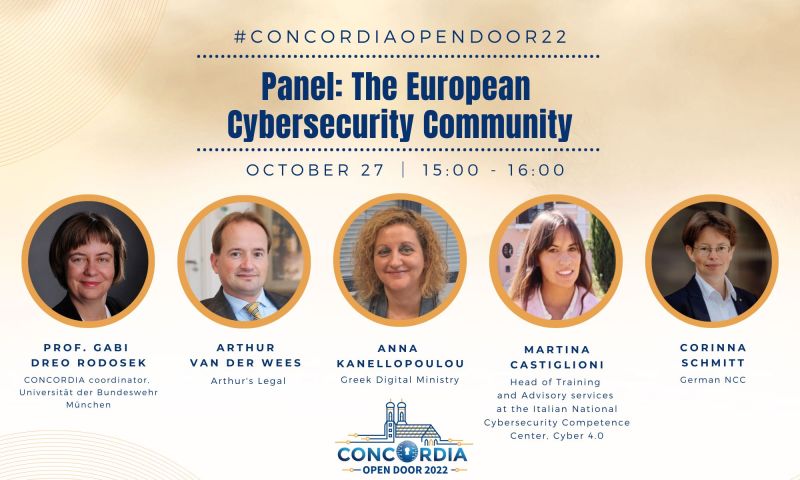 On 26 & 27th of October 2022, the EU projectconsortium CONCORDIA will be hosting its annual Open Door Event, COD22, this year in Munich, Germany. Stakeholders from all backgrounds, such as cybersecurity experts, public sector, private sector, engineers, entrepreneurs, academia and others will discuss societal, technological, educational, skills, policy and most of all the collaborative needs in the many domains and dimensions where European cybersecurity capabilities and competences are an essential, an enabler and otherwise instrumental.
We are delighted to announce that amongst other well-respected speakers, Arthur van der Wees will be representing Arthur's Legal during the panel about the European Cybersecurity Community next to representation from the National Cybersecurity Authority of Greece (Ministry of Digital Governance) (NCC-EL), Italian National Cybersecurity Competence Center (NCC-IT) Cyber 4.0, German National Cybersecurity Competence Center (NCC-DE), and European Cybersecurity Competence Center (ECCC).
One of the areas to be discussed will be: what are recommendations to build, implement, achieve and sustain an European community that can cater for cybersecurity and digital sovereignty?
Another topic to be discussed will be, as stated by Executive VP Vestager earlier this year: 'We can enlarge the digital single market but if we do not have the right people, none of this is going to materialise.'
You are being invited to join the session, subscription is now open: https://opendoor.concordia-h2020.eu/2022/registration.html
More information about the event can be found underneath:
Event Timing: October 26th-27th, 2022
Event Address: Giesecke+Devrient GmbH Prinzregentenstraße 159 81677 Munich
Check out the event program (https://opendoor.concordia-h2020.eu) or Contact the organizers at: opendoor@concordia-h2020.eu